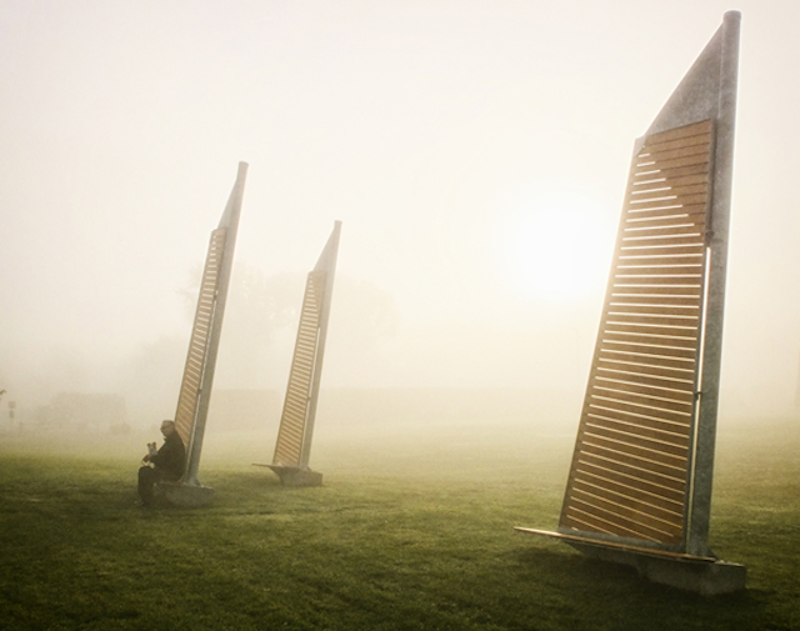 More than 300 years ago, settlers traveling up the St. Lawrence River founded the small town of Verchères. To commemorate the landing, Quebec architects Les Ateliers Guyon recently installed these elegant outdoor seats along the river's banks. The idea is to transport the "to the seventeenth century, a time without…
Sitting is fantastic, but benches are boring. Imagine if the world was just littered with hammocks and swings for your own extravagant public lounging pleasure. These clever transforming swings could make that a blissfully lazy reality.
Wooden furniture is easy on the eyes, but not always the most comfortable thing to sit on for extended periods. This "Spring Wood" design aims to change that, by cutting wooden chairs in such a way that they become flexible.
Like the spork or Bosch corkscrew/screwdriver, Marlon Darbeau's Peera is not a bench with just one function. It also doubles up as a toolbox and table, and probably even makes a sandwich if you say "please" and "thank-you" kindly.
At last you can avoid the hassle of taking your Lasonic Ghetto Blaster every single time you go to the park: Now the park will have boom boxes the size of a park bench, with more than 500 watts of high quality ghetto thump. You only need a cellphone with Bluetooth audio support, and the Boom Bench will be yours to…
Spanish designer Nacho Carbonell believes that chairs can mutate—and will, when given the opportunity. Evolution, his new collection, shows how a public park bench can become into a private pod chamber for people to crawl into when they're feeling antisocial. There's also a pod-like makeout chamber for lovers.
Not sure if you're supposed to sit on this until you feel a tickle, but this is a biobench made of recycled cardboard cylinders containing grass seeds. The bench will eventually biodegrade and turn into a big lump of grassy mulch, but until then you can sit on it. Available individually or as a set and created by …
German manufacturer, Runge (makers of all things benchy), has released a Light Bench. Sitting on this bench is like having a rainbow explode underneath your buttocks and believe me, it is as good as it sounds. These benches use LED lighting to illuminate the surrounding area with a selection of non-natural colors…