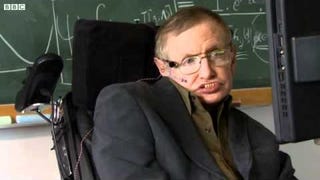 The discovery of the Higgs boson is kind of a big deal. Stephen Hawking certainly thinks so: he says it should net Peter Higgs, the scientist after which the particle is named, a Nobel prize. But it's not all good news, because the result has lost him $100.
Are you tired of going all Zapruder on every piece of Apple minutiae and discussing it in public forums? Now you can put your money where your mouth is. Then, take the money out of there and make a bet.
Sunday's BET Awards were a lot of fun. Particularly fun? Chris Brown, his ex-girlfriend and former assault victim Rihanna, and Rihanna's current boyfriend Drake all being called onstage as winners at once. The culprit? A confused girl with a tablet.
We've known about Marvel's Black Panther cartoon since July, but it was only this weekend that the studio announced who would be providing the voice of Wakanda's warrior king. Now we know who will be heating up his own prime-time series next year: Blood Diamond and Alias star Djimon Hounsou.Commenting that "[i]t's a…
Pretty sneaky, BET. In order to sell more ringtones, the TV network is now embedding text-messaging codes into music videos, giving you an easy way to download that song's ringtone into your cellphone quickly and easily. Powered by Motricity, it seems about half of BET's videos now have a 10-to 30-second pop-up that…