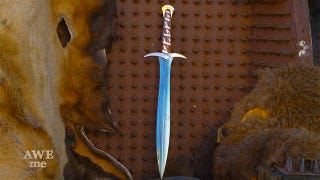 Master swordsmith Tony Swatton—who also made Wolverine's claws and Thor's hammer—just forged the famous Sting, the ancient elvish blade that glows blue when orcs and trolls are near. Swatton's version can cut like the real thing and glows blue too, thanks to his amazing technical prowess.
Behold the latest trailer for The Hobbit! It's brimming with new scenes, most notably Bilbo Baggins' riddle olympiad with Gollum. That anthropomorphic sack of unpleasant sure does drive a hard bargain. (I'm secretly praying that "The Precious" is rebooted to be Hat FM.) The Hobbit: An Unexpected Journey hits theaters…
Finnish author-illustrator Tove Jansson is primarily known for creating the beloved Moomin children's series, but she also illustrated the 1962 Swedish edition of The Hobbit. Take a gander at Jansson's whimsical renditions of J.R.R. Tolkien's classic.