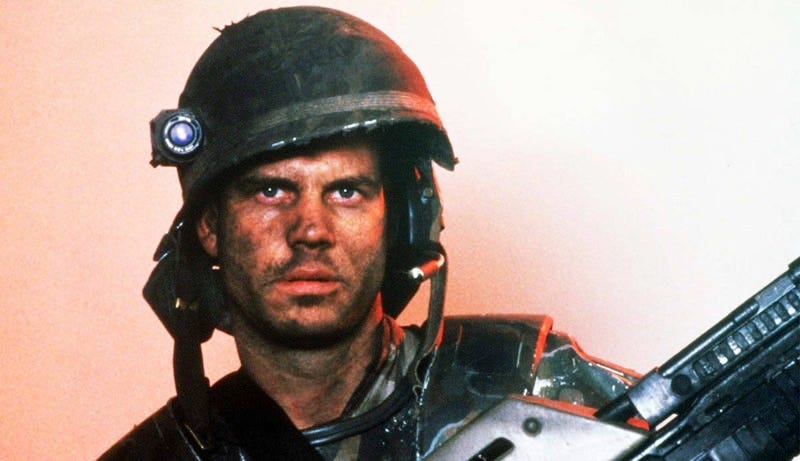 The late Bill Paxton's career was incredibly varied—he earned widespread critical acclaim for HBO polygamy drama Big Love, and rocked one of the best mustaches in the West in Tombstone. But our favorite Paxton performances came in genre movies—and he was a high point in some of the greatest of all time.

The cast of Aliens assembled at Comic-Con to celebrate the iconic science fiction film's 30th anniversary, and all agreed that James Cameron's script is a key part of what makes the film a classic. But woven into that strong storytelling are also some of cinema's most memorable one-liners, as stars Bill Paxton and…
Twister has it all: growling tornadoes, a battle of good vs. evil in the competitive world of meteorology, a young Philip Seymour Hoffman, and a megameta scene in which a funnel cloud decimates a drive-in just as Jack Nicholson hacks up a door at the Overlook. It's corny, it's scientifically iffy, and WE LOVE IT.
You can scratch "everything Bill Paxton says in Aliens" off the list of supercuts that need to be made –– someone very kindly compiled all of Bill Paxton's speaking lines into the above video; heard together, without interruption, they sound almost... philosophical. Now all someone needs to do is write all these…
While visiting the set of Cowboys & Aliens we couldn't help but reminisce about past alien battles with Sam Rockwell. Imagine our surprise when he revealed where his Galaxy Quest character's inspiration spurred from — honestly, it makes perfect sense.
If there's anything that will ruin Big Love forever for you, it's a psychotic, vampiric Bill Paxton eviscerating a bar full of hillbillies in 1987's Near Dark.
Remember that scene in Aliens with Bishop and the knife? ITP student Aram Chang made a nerve-racking game out of it. In Simon Stabs, you and your opponent take turns sticking a "knife" between your fingers, making a pattern that must be mimicked by the other guy, who then adds to it. You only have a few seconds to…