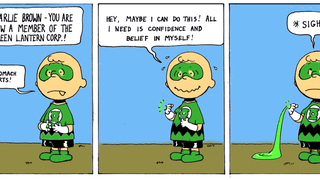 Why didn't we grow up reading The Very Hungry Galactus or Are you there, God? It's me, Rogue? Over at Comics Should Be Good, artists are filling in the gaps in our childhood libraries by reimagining classic books with superheroes and villains.
Last week's edition of the always stellar The Line It is Drawn art mashup series at Comics Should Be Good made the Fantastic Four as big as the Beatles. The brilliant fanartists took up the challenge of CSBG readers to place superheroes on album covers, casting the Teen Titans as Gorillaz, the various Robins as the…
The always delightful Bill Walko (creator of the webcomic The Hero Business) has drawn yet another clever mashup for Comic Book Resources' The Line It Is Drawn. Here, the Joker plays Don Draper to Poison Ivy's Joan Halloway-Harris and Two-Face's Roger Sterling.