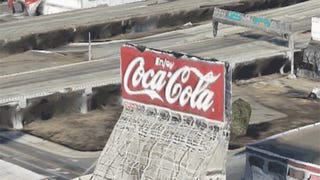 Bing Maps is apparently really great at one thing: revealing top secret military information. After capturing a top secret military base, Bing has now caught a stealth Russian airplane that's been shrouded in mystery. The Bing Maps image above shows Russia's MIG Project 1.44, Russia's first attempt at building a…
This past week, reports have come out about a top secret US drone base inside Saudi Arabia. The base was built two years ago, had been used for dozens of drone attacks in Yemen and was originally hidden by the news until it was revealed this week. Now, Bing Maps may have found it, reports WIRED. Satellite images show…
Bing Maps just added 165TB of new aerial images—more than doubling the 129TB previously available. The update covers 15 million square miles in North America, South America, Africa, Australia, Europe and Asia. Besides satellite imagery, additions include exclusive aircraft photography. You can explore the whole…
If you've never been able to put your finger on why Google Maps seems so much easier to read than other mapping services, here's why.

Cab drivers know their cities intimately, using shortcuts and side streets to bypass traffic jams and (hopefully) get you to your destination more quickly. Now Microsoft is hoping to tap into this talent and design better driving directions for online maps.
A UC Berkley team has built a giant room-scanning backpack, brimming with lasers and cameras, that can map an interior and generate a 3D model. The potential utility for services like Google Maps is huge, but also, laser backpack.
Bing Maps continues to impress: first with a treasure map, now with a cab fare calculator that factors in pick-up, time, and distance charges. It even picks the shortest route so that you're not left feeling squeezed.
Without wishing to compare Microsoft's Bing Sky to Google Sky, and its Bing Maps with photos and live video to Street View, they do sound pretty bandwagon-jumping-like, especially with Google Maps today adding some new Labs features.