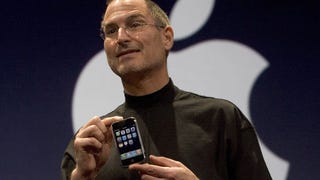 Filming for the forthcoming—and much-troubled—Steve Jobs biopic started yesterday. With that came confirmation of the main cast that will feature in the film.
Last month Funny or Die announced that it was making a Steve Jobs biopic all of its own, called iSteve—and now the trailer has landed for you to watch.
This falls within the realm of strong rumor, but it's an exciting rumor all the same. Deadline is reporting that Benedict Cumberbatch is "in deep conversations" to play cryptanalyst and computer scientist Alan Turing in the biopic The Imitation Game, a script from the 2011 Black List. Will Cumberbatch make the jump…
There have been rumors floating around that Aaron Sorkin, of West Wing and Social Network fame, had been approached by Sony to write its Steve Jobs biopic. In a press release issued yesterday, it was officially announced that Sorkin will definitely be working on the project.
Aaron Sorkin might be (totally is) the best screenwriter we have, and according to E! Online Sony Pictures has offered the Social Network Oscar-winner the job of writing the script for the Steve Jobs movie.
I very much doubt Steve Jobs would have approved of a movie about his life, beyond what's been produced already, but in this case it doesn't really matter anymore, does it?