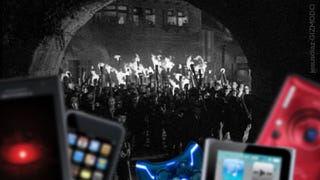 We've updated our Black Friday cheat sheet—the most useful deal-finding document around—with great deals from SonyStyle, HP Direct, and Toshiba Direct. Those are online stores, so you can score the savings without leaving your lair. Peep it. [Giz]
Amazon's own Black Friday deal is a good one: they'll be selling the last-gen-but-still-good Kindle 2 for just $89, starting at Noon EST on Friday. They'd like to remind you it uses the same e-ink tech as the current Nook!
★★ iPads from $458 at Apple (normally $499) (available online) New!
Amazon will gladly sell you awesome phones for a penny. But what if you need that penny? Here's the best free phones on every carrier.