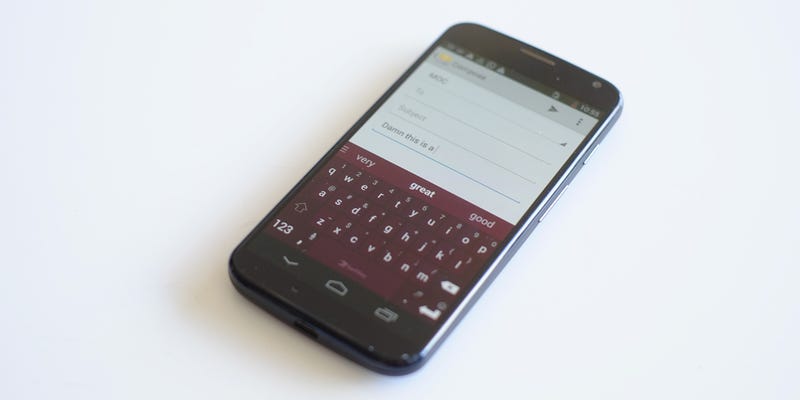 It's always been a little comforting that no matter how clever our smartphones get, the autocorrect will still be a hot mess of dumb suggestions. Well, Swiftkey's new keyboard uses a neural network to think more like a human—and it's almost too good at it.
Blackmagic's new 4K URSA camera is a crazy modular device with an insane swappable sensor. Now, the first footage filmed by it is available to view online—and it is just gorgeous.
Blackmagic just announced a new camera, the URSA, a 4k cinema camera with some absolutely unique features like a 10-inch LCD display, dual RAW and ProRes recording, and a crazy swappable sensor and lens-mount design. All for $6000.
The announcement of Blackmagic's $3000 RAW-shooting Cinema Camera in 2012 caused such a stir that not many could have anticipated a followup model, so soon, that was a fraction of the cost and a fraction of the size. The Pocket Cinema Camera continues forging the path of the upstart high-end video camera.
The Blackmagic Cinema Camera is unlike any video camera you have ever seen. When it was announced in April of last year, slackjawed videographers marveled at this little camera, made by a little software & post production hardware company, that shoots RAW files at 2.5k resolution for only $3000. It was the kind of…
The BlackMagic Pocket Cinema Camera is exactly what it sounds like. It was announced earlier this month and promised to deliver super-sharp image quality in a tiny $1000 device. By the looks of the first bits of footage to hit the web, it won't underwhelm.
The film/videomaking world was set aflame last year when Blackmagic Design announced its Cinema Camera. It looks like the rogues are back for more with a RAW-shooting, $1000 video camera that fits in your pocket.
The Black Magic Cinema Camera, if you remember from its surprise announcement this spring, is a $3000 video camera that shoots 12-bit RAW 2.5k video files. No other camera on the market offers this capability at such a low price.
Starting today, warlocks and witches the world over will have to find a more hospitable hosting platform for their black magic business: eBay has had enough.
Post-production hardware and software company Black Magic Design has just announced their entry in the camera-making business with their Cinema Camera. The cam rocks 2.5K recording in RAW formats, meaning the image won't suffer due to in-camera compression and will presumably preserve extremely broad dynamic range.…
The Thunderbolt I/O interface is the darling of Apple and Intel. Introduced on the MacBook Pro line in late February, the port is still largely collecting dust.
Blackmagic's new USB compatible video recorder promises to simplify your video recording process by utilizing the H.264 format for playback on the iPod, iPhone, Apple TV, YouTube, IPTV, and the web. It also features analog component, NTSC, PAL and S-Video inputs as well as simple software that should make it easy to…