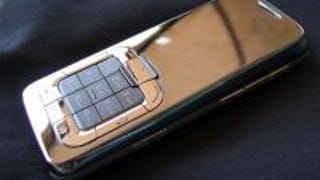 Haier's sister phone to its Elegance (aka the Black Pearl) will be available from July. The Haier Sterling is another beautifully designed teeny-weeny phone (it measures 3.8 x 1.6 x 0.6 inches) and for $199 you get MP3 and MP4 players, full WAP and Web access, 1.3 megapixel camera, 1.8-inch color screen, micro SD card…
Remember that incredibly tiny Haier Black Pearl we reviewed last year? It looks like they've gone and re-dubbed it the Elegance. It still has the same features we saw in our review—OLED display, FM radio, MP3 player, and Bluetooth—but we're not sure if any of the problems we encountered were fixed.
How tiny IS the Haier Black Pearl cellphone? In case you couldn't tell by the quarter measurement, here's a comparison of the Black Pearl vs. an iPod Nano vs. a 30GB iPod.
Honestly the smallest phone we've ever used, the Haier Black Pearl cellphone is perfect for slipping into your pocket and slipping out for a night of fun.
The Haier Black Pearl is honestly the smallest phone we've ever seen. It's hard to get a sense of how small it is from the picture, but you can see that it's about the length and width of two of my fingers, and around the thickness of one of my fingers on end. And I don't have large hands.