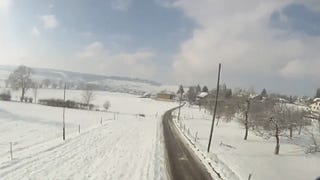 Blacksheep, the RC stunt devils behind that crazy New York City fly-over, are back with some new footage of a distinctly more rural (and distinctly more snowy) locale. Keep an eye out for the freaked out sheep! [YouTube]
Firesheep, the packet-sniffing Firefox plug-in that grazes on (and then BURNS!!!) public Wi-Fi networks, could leave your Facebook or Twitter account compromised. FireShepherd arrived last week to protect Windows users, but now Mac users have a defense measure: BlackSheep.
If you haven't seen the ultimate New Zealand scifi mutant horror flick Black Sheep, then you are missing out on what is finest in life. Genetic experimentation on a remote farm leads to weresheep!