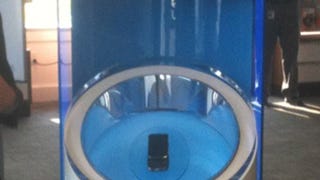 It was a fun guessing game while it lasted, but those mysterious AT&T displays turned out to be housing the BlackBerry Torch after all. Phew! We can all finally stop losing sleep over a marketing obelisk. [Thanks, Bryan!]
Well, the BlackBerry Torch 9800 is a real thing! It's a crazy-thin touchscreen slider BlackBerry running Waterloo's latest and (probably) greatest software, the revamped BlackBerry OS 6. It is interesting.
Considering RIM hasn't even announced a new flagship phone yet, they've got a lot of work to do to wrench people away from the claws of the iPhone 4 and Droid X. So, two upcoming phones—one a slider?
BlackBerry's already got a couple product ranges—the Pearl, Curve, Bold and Storm—but according to the CrackBerry tipline, RIM could be adding another product name to the line-up. Will the Bold 9800 be the very first Torch phone? [CrackBerry]