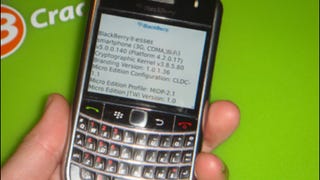 Bored with just talking about their microthin Bluetooth headsets, MoGo has started screwing them to things. For example: BlackBerrys! Now you can buy a headset with an adorable little backpack for your Curve and Javelin, and soon, Bold and Tour.
As promised, the BlackBerry Tour went on sale today at Sprint and Verizon for $199, with contract. The wonderful lack of carrier exclusivity surrounding a smartphone launch feels good. [Sprint, Verizon]
While announcing the company's intention to release an updated version of the BlackBerry Tour with WiFi next year, a Sprint spokesman let slip that WiFi will also be present "in all its major devices going forward." Big win!
Behold, the power of bad press! Verizon is now set to offer pre-orders of the upcoming BlackBerry Tour to existing customers in the very near future.
Here's something for our hefty "WTF, Verizon?" file: The BlackBerry Tour, soon to be Verizon's top phone, cannot be pre-ordered by existing customers under contract who want to upgrade. What's worse, upgrades may be blocked even after the phone's release.
Verizon isn't the only carrier getting the Blackberry Tour on July 12th; Sprint is also getting it on the same day. Just like at Verizon, it'll be $200 with a new contract. Can you feel the excitement in the air? I can.
We suspected this before, but now we've got a confirmation in the form of a pre-order page: Verizon is getting the BlackBerry Tour on July 12th, at a $200 price point. Now, Verizon users, go forth and pre-order. [Verizon]
We've gotten plenty of breadcrumbs regarding the upcoming BlackBerry Tour, but we finally have the full specs.
On top of Verizon's teaser site, Sprint has thrown in their hat by announcing the BlackBerry Tour will be for sale on their network later this summer for $199 after $150 worth of instant and mail-in rebates. [Sprint]
Boy Genius says the BlackBerry Tour 9630 (née Niagara, aka the real BlackBerry Verizon peoples have been dying for) will finally arrive on the big red V in July, probably the back half. [BeeJeeArr]