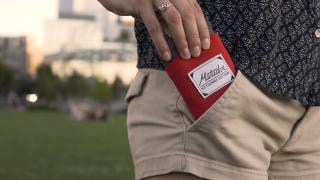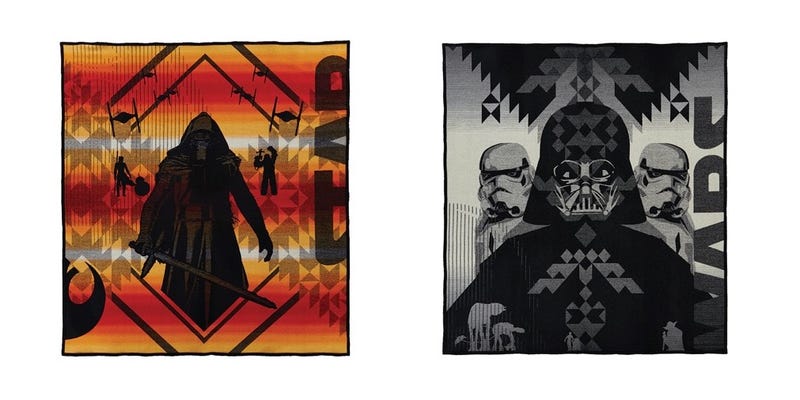 I know! You didn't buy anything for Force Friday because you're practical: You were holding out for something really useful when it came to Star Wars merch. When winter comes and your bedroom is as cold as Hoth you're gonna need a blanket. Why not have it be one of these Star Wars Pendletons?
You've seen this blanket, you might just not realize it. It's in nearly every baby photo taken for decades, yet very few of us ever even notice it—who would bother, confronted with the first image of their new nephew, grandkid, or daughter? It's an invisible piece of design, but as Qz points out, it's also a great…
There are some emergencies in life that don't leave you panicked. Like if you happen to stumble across a sunset at a gorgeous park and desperately need to picnic, or you've wandered into an outdoor concert and need somewhere to sit. For those moments the Matador, a nylon waterproof blanket that can easily squeeze into…
The problem with graphical glitches is that they generally show up when you're trying to look at something else. Something not glitched. But if you're just looking at them on their own, they can be be pretty fascinating, and even beautiful. That seems to be the idea behind Phillip Stearn's Glitch Textiles, a set of …
For most people, 'whatever's in reach' usually ends up being the best way to clean their phone or tablet's screen. But to avoid scratches, or just trading fingerprints for a layer of lint, you really should be reaching for a microfiber cloth. And that's made extra easy if you're keeping cozy under this throw.
Obviously not satisfied with the miraculous modern marvel known as the Snuggie, German designer Elisa Strozyk created her own unique blanket—drawing inspiration from a warped tile floor instead of the thrill of perpetrating fashion crimes.
I'm man enough to admit when I'm wrong. And declaring the Snuggle Suit the last word in Snuggie technology was most definitely one of those times. The Coz-E is the heated Snuggie of your closest-held dreams.
Eff snuggies, I'm in love with this blanket that has a gadget storage pouch.
And on the seventh day, God rested, but not without creating the Snuggie first. And God saw it was good. So he created the two person snuggie. You know, to comfortably do naughty things with Mrs. God while watching TV.