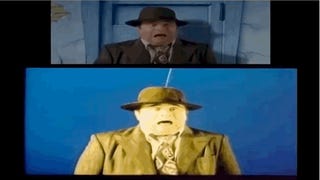 We were saddened to learn that Who Framed Roger Rabbit? star Bob Hoskins passed away last night, and this video shows just how game an actor Hoskins was—turning himself into a human cartoon as he acted against a blue screen.
If you've watched any basketball games this past season, you might have noticed some really great commercials that showed current NBA stars in their earlier life (in high school, college, etc) interacting with people from "the future" (or 2011). It's amazing when you see 2005 version of Kevin Durant "react" to the…
Now you can desecrate your favorite movies and TV shows by using Yoostar's Webcam/microphone, green screen, and software to insert yourself into famous scenes. The results are easily uploaded to Yoostar.com, where you can also buy more scenes to use.
We've been fiddling around with the Windows 7 Beta for a few days, but just now finally run into that old friend of Windows users: the blue screen of death. It looks the same.