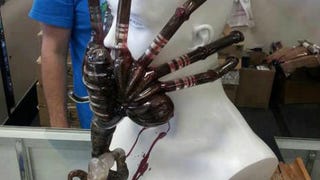 I have no idea who's responsible for this work of art, but I'm now of the theory that this is a lost costume design from Prometheus, which was originally filmed as a $130-million remake of Reefer Madness. Remember, if an android slips THC in your wine, you'll grow a cephalopod in your bloodshot eyes that even Visine…
After I posted the custom Xbox 360 bong yesterday, I asked you to send in any other custom gaming smoking paraphernalia you might make. I was not disappointed: say hello to the NES Zapper bong.
We've seen bongs made out of N64 and NES controllers, and both were amazing. But a bong made out of an Xbox 360? Oh hell yes.
The Porto Decanter's product description pretty much says it all. "Sure to spark conversation, these sophisticated, hand-blown serving pieces date back to 17th century Europe where they were known as Schnapps Pfeiffen," it reads, lacking only the prerequisite "munchies" reference to all but confirm this $40 decanter…