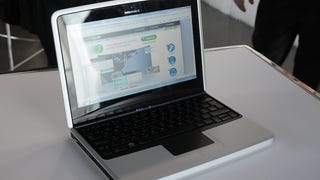 Surprise, Nokia's Booklet 3G—a very nice netbook—is just gonna be $299 on Oct. 22, way below previous estimates of like a bajillion dollars. Granted, you're signing your soul over to AT&T for $60/month to get it that cheaply.
The Nokia Booklet 3G has touched down on US soil. The cell phone manufacturer's first laptop is made of sturdy stuff and is mobile broadband/SIM-card friendly. I'd buy one if the price is right. But chances are it's not.
With Best Buy confirming exclusive retail rights to the 10-inch netbook with built-in 3G and GPS, are all hopes gone of seeing its estimated $800 price subsidized by a wireless carrier?
Nokia's Booklet 3G still has no U.S ETA, but it's an interesting 10.1-incher with Windows 7, 3G, and a claimed 16-hour battery life. And though I've no idea what this (Greek?) gentleman is saying, here's what's in the box:
After teasing its 10.1-inch netbook with 3G and Assisted-GPS, Nokia has confirmed an impressive 16-cell (12-hour) battery and coughed-up full specs: Windows 7, 1.6GHz Atom Z530 processor, 120GB hard disk, 1GB RAM, 802.11n Wi-Fi, and HDMI. Price: €575 ($810) before-subsidies.