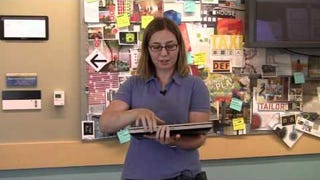 What's Microsoft got to compete with the MacBook Air's near-instant on? According to this recent demonstration from its Building Windows 8 blog, the ability to take a machine from fully powered off to booted up in just under eight seconds.
Nike Sportswear, my favorite arm of the shoe giant, has released these shoes that use plain Nikes and re-purpose them as desert boots. From the color, to the rubber sole, it's a perfect combo of outdoors smarts with flawless street style. [NSW via Acquire Mag]
Most of us don't appreciate all the processes involved with our OS's boot sequence; we're far more interested in watching that status bar fill. In this visualization of the Linux boot sequence, each function is a node, and each line connecting the nodes represents a call, direct branch, or indirect branch. The image…
Winter is almost upon us, and chilly feet can be a chronic issue. Thankfully humanity no longer has to suffer this unpleasantness with the introduction of CozyFeet microwavable boots. The modern-day equivalent of warming ones feet by the fire, these boots "contain a special blend of natural wheat grain and dried…
Here's what the Nintendo Wii looks like the first time you start it up. Enter in the time, date, name, and what language you speak (I had problems with that one). One cool detail is how the controller vibrates when you scrub over various clickable UI elements.
Forget about droids that make breakfast or try to take over the World. In the UK, a team of scientists have constructed a robot to assist them in the eccentric and perverted-sounding British sport of Welly Wangling, which has nothing to do with masterbation. It's actually the sophisticated sport of hurling a boot as…
Our esteemed frat brothers at Lifehacker first told us how to download, install and dual boot Windows Vista Beta 2 with Windows XP, and now they've gotten out the stopwatch for their first test, showing us how the startup time of the newest Microsoft operating system compares to that of its predecessor.