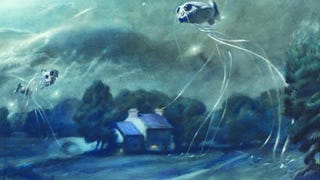 This is the last weekend for an exhibit that includes some trippy art like the above "War of the Worlds" painting by José Segrelles, alongside some glorious paintings by Frank Frazetta, H.R. Giger, Boris Vallejo and more. "At the Edge: Art of the Fantastic" is ending on Sunday, at the Allentown Art Museum of the…
We're excited for Quentin Dupieux's "abandoned tire comes to life and starts blowing crap up with psychic powers" flick Rubber. We also adore the über-masculine fantasy artwork of Boris Vallejo.
Famed illustration team Julie Bell and Boris Vallejo have created this awesome image from Edgar Rice Burroughs' pre-golden age novels about swashbuckling hero John Carter's adventures on Mars.