Connecting brains together into networks, or 'mind-melding' as the Trekkies say, has a long and colorful history in science fiction. But it's also something that scientists are doing—rather successfully—with animals in the lab. And in many cases, networked animal brains seem to perform better than individual brains.
A few weeks ago, we wrote about a tiny micro-bot designed to be injected into a patient's eye and controlled via magnet—a speck-sized eye surgeon. This week, a group of Berkeley researchers published a study positing a similar concept, except the 'bots are inside your brain. And they're the size of dust particles.…
The mind-controlled dress, created by designer Nange Magro, is utterly captivating. It lights up and changes shape according to the level of concentration in your brain — and in particular, its skirt pulls back, like a spooky insect's wings, to reveal a shiny latex undergarment. Which might make it difficult for…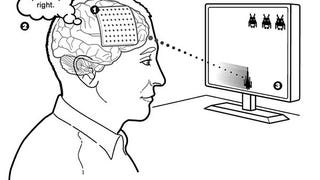 In the New York Times the other day, there was a great story by Pagan Kennedy about experiments with brain-computer interfaces, which included the stuff you usually hear about, like people moving cursors with their minds. But it also included some new stuff, like Kennedy herself choosing a picture on her phone using…
Check out the future of brain-computer interfaces. After we poked fun at the electrode-strewn skullcap you'd need to control a pinball machine's flippers yesterday, a researcher sent us this picture of the next-generation EMG helmet, that doesn't need direct contact.