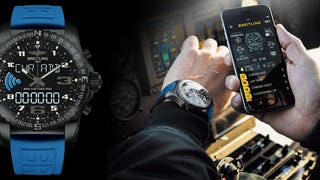 Many have criticized Apple for trying to cram too much functionality into a wearable device with a tiny touchscreen and short battery life. Breitling's first smartwatch is simpler: the B55 Connected will wirelessly communicate with your smartphone too, but only to make the watch's core functionality easier to use.
Breitling's original Emergency watch first launched back in 1995 and was able to broadcast a distress signal on the 121.5 MHz analog band allowing ships, planes, and other vehicles to track it. But if your approximate location wasn't already known, it made locating the signal a bit tricky. So Breitling is introducing…
I recently flew a Curtiss P-40 Warhawk from World War II (with three kills). It was a beautiful experience in a beautiful plane, but it pales in comparison with the P-51 Mustang. Watch and enjoy this amazing classic airplane porn.