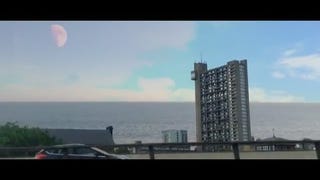 The man who does double duty as frontman for both Blur and Gorillaz, Damon Albarn, is releasing a solo album called Everyday Robots next week. This is the beautiful video for his collaboration with Brian Eno, Heavy Seas of Love. It was shot entirely on an iPad by Albarn himself, in a totally lovely and not at all…
In high school I had a weird ritual where I would listen to this suite while I did my math homework. But it sort of makes sense because Brian Eno wanted this music to reduce tension. He conceived it while observing the stress and rush at a German airport during the mid-1970s. And it really works.
Brian Eno has always been a prolific artist, whether as a pop star or an ambient composer. But 77 Million Paintings, one of Eno's more recent releases, is his most expansive: a series of almost 300 individual music and lightworks that combine in an infinite array of randomized variations. But where did the idea for…
Last week, Brian Eno's management company released "Air" to the app store. While it wasn't written specifically by Eno, it was "based on concepts" by him. Trope, on the other hand, was made by Eno and Peter Chilvers.
Bloom, Brian Eno's first iPhone App, is still one of the best and most inventive apps in the store, so I'm pretty excited about Air, the followup.
The Sydney Opera House finally achieves its destiny of looking like a space cruiser being eaten by the jealous gods of hyperspace, in an art installation by musical superfreak Brian Eno. The U2/Devo producer blasted some of his tie-dye-esque art onto the walls in an installation called "77 Million Paintings."
Brian Eno, the father of ambient music and one of the greatest musical minds of our time, has just teamed up with musician/programmer Peter Chilvers to create one of the coolest, most unique iPhone apps to hit the App Store yet. Called Bloom, it's "part instrument, part composition and part artwork." It's also a…

Brian Eno is selling the DX-7 he used to create the Microsoft startup sound and other, more amazing, compositions. He's also auctioning a Prophet VS, Jellinghaus DX-7 Programmer and two Mackie Mixers. The auctions are taking place at Vemia, a terribly designed site that is an eBay alternative for musicians. Why is…