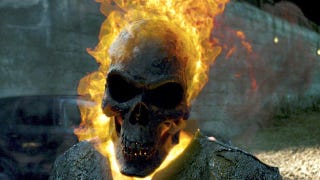 Before you see Ghost Rider: Spirit of Vengeance, consider the following question: "Does the mantra 'Put the bunny back in the box?' make the tiny follicles on the nape of my neck stand up?"
In addition to checking out the new Ghost Rider: Spirit of Vengeance footage screened at New York Comic Con, io9 had the opportunity to chat with Crank directors Mark Neveldine and Brian Taylor.
What's the deal with those candy-haired ravers from Gamer we posted a picture of a while back? Writer/directors Brian Taylor and Mark Neveldine explained their sleazy secret at Comic Con, and it has to do (not surprisingly) with gaming. Spoilers...