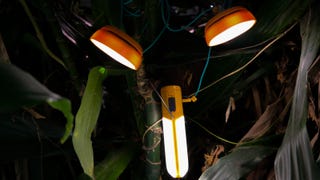 This new BioLite NanoGrid functions as a hanging work light or lantern, a multi-point area light, a powerful flashlight and a portable power source for your electronics, all in a single $100 product. The ultimate camping gadget? I got my hands on a unit to find out.
You know that feeling. You're in a dark room, maybe you just woke up, and you reach for your phone to check something and—BAM!—you're assaulted by its full brightness and effectively blind and squinting for the next 30 seconds. Or maybe you just want to text at the movies. Microsoft has a potential fix for that.
Your phone display's brightness consumes up to half of its power. And chances are it's being horribly mismanaged, thanks to bad engineering and a backwards user interface. Here, Dr. Raymond Soneira of DisplayMate explains Brightnessgate for iPhone 4 and Android.
Some people light up the room naturally. Others of us need help. And adding 400 LEDs to what is pretty much the epitome of pimpwear already is the perfect fashion storm to make you the star of this year's office festivities. When first activated, the lights alter colors in sync. But over time, this synchronization…