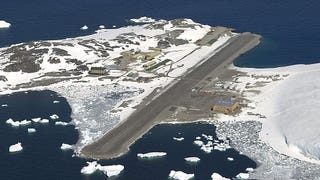 A team of pilots and a medical worker are in the midst of evacuating a sick staff member from a science base near the South Pole. The rescue attempt is considered treacherous given the extreme midwinter temperatures and distances involved.
The stunning ceiling above the Austrian Academy of Sciences' main auditorium helped the 167-year-old institution make Curbed's list of architecturally memorable buildings dedicated to science.
It's been a very, very cold winter in Antarctica, with scientists reporting record lows all over the continent. Which makes the fact that researchers living on the Brunt Ice Shelf lost power for 19 hours even scarier. Today, the British Antarctic Survey announced it's halting all science until the situation gets…
This November, a team from the British Antarctic Survey will spend three days boring through two miles of Antarctic ice sheet into a small sub-glacial lake in search of wildly new forms of live. They'll be able to do so thanks to a unique hot water drill designed and built, in part, by Mechanical Engineer Andy Webb.