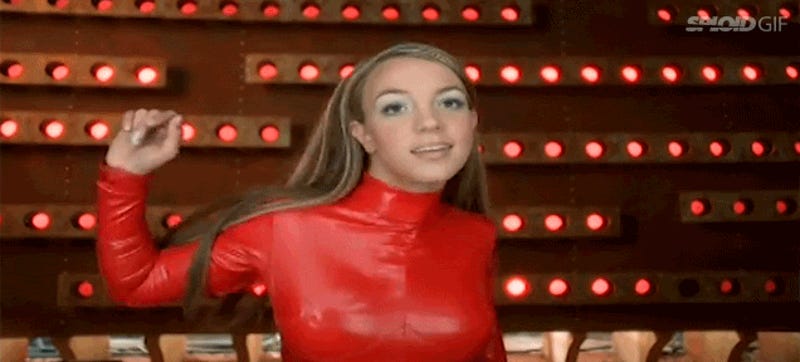 Britney could never really sing and she could only really dance in choreographed stunt pieces and eventually became a crazy person and then a mom but when she was a superstar, she was one of the brightest to ever burn. It's almost fitting to watch a musicless version of her music video because it's just Britney, betch.
Some intrepid souls have mashed-up the low-rations hellhole of Suzanne Collins book series with "I Wanna Go," a recent track by bubblegum pop's premiere fallen starlet. Watch Katniss get courted with carbohydrates.
Science fiction, pop music, and reality are chock full o' artificial intelligences that can carry a tune. Here's an entire roster of fantastic singing she-bots who can croon circles around The Rock-A-Fire Explosion.

Sometimes technology gets the best out of you, specially when your clothes already got the best out of you. With a flip-flap noise. Listen to Britney Spears closely during this video's last few seconds:
Thanks to about a million tips, I've been forced to sit through the new Britney Spears music video for "Womanizer" because the flashy Nokia 5800 XpressMusic 'Tube' makes an appearance. The phone is used to take a picture of a ridiculously be-wigged Britney before she violently attacks the photographer and slams his…
If you think that you saw the last of Britney's finely shorn beef garage —think again. Fortunately for us, we only have to endure a tiny plastic version this time around. Indeed, someone had the good taste to develop an action figure immortalizing Britney's recent underwear mishaps for posterity. If you would like to…
This video apparently shows the exact moment that Kevin Federline gets the SMS from Britney telling them that it's over. According to the video, cameras were following him around the entire day in order to conduct an interview, part of which was him gushing about his wife and kids.