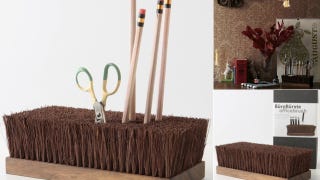 I don't know how old this Besom Holder organizer is or if you've seen it before. Don't care. There's something about the duality of this clean design that required posting today. I'll take two. [bookofjoe via Fancy It via Anthropologie]
There are plenty of apps out that can take your environment and let you add your own style on top. But, using the iPad's built-in cameras, the Composite app lets you reinterpret that environment any way you like on the fly.
Animator Shawn Harris used his iPad and the Brushes app to create a unique music video for the band Blush.
Now VP of product marketing at Apple, years ago Michael Tchao worked on the team that invented the Newton. Considering that was one of the first touchscreen "tablets" around, wouldn't you just love to know his favorite iPad apps?
Oprah is a big iPad fangirl. Such a fangirl, in fact, that she bought one iPad for each of her magazine's staffers. She's also a big iPad applications buyer. These are her favorite iPad apps:
We've seen some extraordinary creations coming from the iPad Brushes app, but I think my favorite so far is David Kassan's portrait of a live model who sat still for three hours (all livestreamed, naturally) while Kassan fingerstroked his iPad.
The iPad, much like the iPhone and iPod Touch, will run apps. Some will be specially made for the iPad. Here are the first few they've shown off. UPDATED: Here's our essential list, now that the store is open.
If you have ever been to an automatic car wash, it should be pretty easy to figure out where designer Philippe Malouin found his inspiration for the Dervish ceiling fan concept.
Artist Jorge Colombo took about an hour to fingerpaint an intricate Times Square scene on his iPhone using Brushes, a $4.99 iPhone drawing app. Now, it's the June 1st cover for The New Yorker.