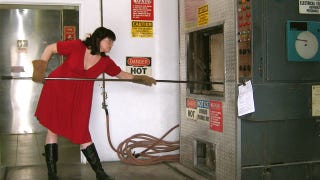 Death becomes us all, yet most of us have little idea what happens to our bodies before and after a funeral. It doesn't have to be that way. You have questions about death, and mortician Caitlin Doughty is here with answers.
The New York Times has published a long piece about Hart Island, a few weeks after Gizmodo's own coverage of the shocking and emotionally super-charged site, where prisoners from Riker's Island bury New York City's unclaimed dead.
It's a place where few living New Yorkers have ever set foot, but nearly a million dead ones reside: Hart Island, the United States' largest mass grave, which has been closed to the public for 35 years. It is difficult to visit and off-limits to photographers. But that may be about to change, as a debate roils over…
Abraham Lincoln was one of the most celebrated and mysterious presidents in the in U.S. (maybe this is why he made such an excellent vampire hunter.) His assassination sent a nation into mourning, and was followed by a two week funeral tour by train car. But Lincoln's body did not find rest at the end of this…
Muammar el-Qaddafi, the former dictator of Libya, was killed yesterday but Libyans don't know what to do with his body just yet. Right now, Qaddafi is being stored in a room-sized freezer at a shopping center in Misrata, the home city of the fighters who killed him. A fitting end?
Forget those GPS graves in the jungle we brought you a few weeks ago, because in the future what we're really going to do is pour—yes pour—our loved ones down the drain with the help of some lye and an iron coffin contraption from BioSafe Engineering. The last hurdle, as always, will be to overcome the yuck factor…