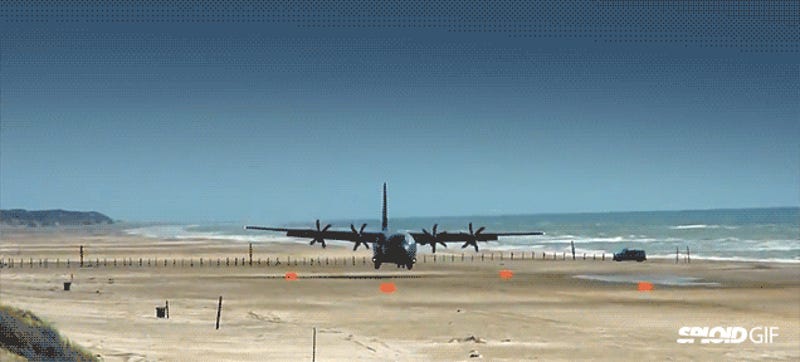 The C-130 Hercules can basically land whatever the hell it wants, so the Danish Air Force took it to the beach because a) it's fun! and b) you never know when you will have to invade a country. You can see it from multiple angles, including the cockpit. Bonus: A collection of all-terrain Hercules landings—and a…
Ever wondered what air-to-air refuelling looked like up in the night skies? Thanks to the UK's Royal Air Force we can show you: this is what a Lockheed C-130 Hercules crew sees when refueling at night. So, quite a lot like Tron, then. [Cpl Neil Bryden/Royal Air Force/Facebook)
Like ducks in a row, five C-130 Hercules aircraft lined up before taking off at Yokota Air Base, Japan. That's one intimidating traffic jam to be in. The picture was taken for the US Air Force by Senior Airman Cody H. Ramirez on their Instagram page.
When an American aircraft goes down, be it over a remote training ground or behind enemy lines, the Air Force's crack teams of pararescue forces jump into action. The new HC-130J Combat King II is the plane that delivers them when Blackhawks can't, even into active combat zones.
This must have been incredibly terrifying! Imagine rumbling along in your massive C-130 over Afghanistan, when KABOOM, a UAV slams into your wing and tears a big chunk out if it. Now imagine having to land like that.
You might remember that the U.S. Air Force and Boeing have equipped a C-130 plane with an Advanced Tactical Laser for initial air-to-air tests. In September, it finally hit something successfully: A truck. Cool enough, but don't expect any explosions.
According to Boeing, the U.S. Air Force tested an oxygen-iodine laser with a 9 mile range in the New Mexico desert, calling the trial run a success.