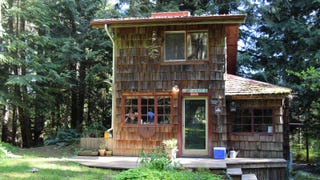 Editor's Note: Contrary to Gawker Media editorial policy, Gizmodo briefly deleted this post after the subjects claimed that they had been portrayed without their consent. It has been republished with the names of all but one of the subjects, the name of a company they work for, and one photograph of one of the…
Don't listen to the naysayers. The zombie apocalypse is real—and imminent. Fortunately, Tiger Log Cabins is on your side with a state-of-the-art, high-tech Zombie Fortification Cabin. Because those goddamn trick-or-treaters zombies never stood a chance.
If you didn't know know better, you'd think the Refugi Liepthaus in the Alps was just another quaint log cabin from afar. But if you get close, you'll realize that those ridges on the walls are not logs but a beautiful brutalist exterior. It's awesome.
Like a tiny wooden spaceship, this two-story treehouse by the German treehouse design specialists at Baumraum is picturesquely perched over a pond, as if it's preparing for blast off.
In a few short weeks, employees at Twitter's San Francisco headquarters will be dining inside century-old log cabins shipped all the way from Montana. And Twitter isn't alone. The struggle to make corporate office life less stupefying and more cozy seems to have reached its logical conclusion with a new trend:…
There are houses and then there are RVs. But a Wyoming company called Wheelhaus sells something that's somewhere between the two: Fully built-out cabins that are easily hitched to a trailer and dragged to new locations.
Are you one of those people who constantly threatens to detach from society and go live out in the woods? But you're probably baffled as to how you'd go about making that a reality, right? Well for $10,000 and a little bit of elbow grease, you could finally make good on those empty threats with a super-tiny cabin.
As the story goes, Lawrence Drake wanted to go camping with a pop-up camper instead of a tent, but his ride could only tow 1,000 pounds. So to stick it to the 'camping-man' he invented a set of lightweight modular panels that can be assembled just like Lego to create various sized temporary dwellings.
The whole point of a cabin in the woods is to get away from it all. And somehow the architect behind the Allandale House, William O'Brien Jr., has managed to design a structure that looks less complicated than even a tent.
I've never been on a trans-Atlantic aboard a military transport aircraft, but I can guess that they're not the most comfortable way to fly. So it's understandable that top-ranking Air Force brass would want something a little more amenable to resting, taking meetings, and watching Hot Shots Pt. Deux on a 37"…