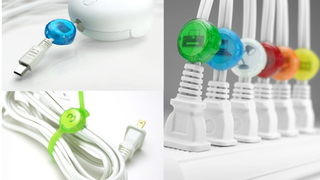 Cordotz is a colorful three-point cord management system that consists of cordwraps, cordstraps and a cordidentifier.
Monster Cable, purveyors of grossly overpriced products, feel your pain during these tough financial times. That's why they are reducing their ridiculous prices to slightly less ridiculous prices during the recession.
I've seen some pretty gnarly cabling in my day, but I don't even have the words to describe what was happening at this recent fashion show in Medellin, Colombia.
When cabling is done right, it can be a work of art. However, in Vietnam things have gotten out of control—as OObject points out with their list of 12 above-ground cabling disasters. [OObject]
Monster, usually better known for cabling, is now tackling powering your gadgets in an eco-friendly manner with a new range of standby-killing power strips. The Digital Life Power Center Green Power versions being the first of two lines, aimed at connecting your computer gear up: when you turn off the computer, all…
Earlier this year we came across a solution for hooking up surround sound with flat speaker cable that promised a quick and inconspicuous way to deal with cabling across a room. A company called OWLink is offering up another solution to this problem using their new transparent fiber optic cabling. The fiber itself…
Having built many a PC in my day, I have a tremendous appreciation for cable organization done right. Generally, I think most data centers are organized halfway decently, but there are quite a few examples out there that are truly hideous. The gallery below should provide a little inspiration for anyone with a bag…