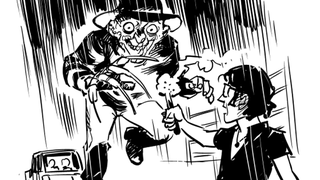 A few hours ago, Gotham Academy writer Becky Cloonan pondered a thought I'm sure everyone's had - what if instead of breeding Dinosaurs, Jurassic Park hatched Freddy Krueger? Artists rushed to visualise her idea, resulting in some hilarious sketches.
Can't wait for the new Batgirl team's comic to debut with that sweet new costume? Neither can we. Fortunately, DC has released the first six pages of Batgirl's next issue, giving us a taste of Babs' new writers and artist in action.
Last week, Cameron Stewart ended his Eisner award-winning webcomic Sin Titulo, about Alex, a young man who starts to investigate the final months of his grandfather's life and is caught up in a bizarre conspiracy involving a mysterious femme fatale, a violent nursing home orderly, and a creepy tree that may exist only…
Fans of surreal mysteries like Lost and The Prisoner would do well to check out Sin Titulo, Cameron Stewart's creepy noir comic involving malevolent nursing home employees, teleportation, and people psychically connected through a vision of a dead tree.