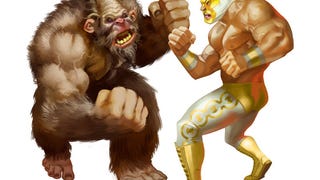 A table-top RPG set in an alternate sci-fi version of the 1970's leads the charge in this weeks look at the coolest crowdfunding projects across the web - but that's not all. There's also nerdy nail wraps, a stop-motion film about one man's journey through space, 3D puzzles of Dinosaur skeletons, and even more!
Do you have a George Costanza-sized wallet? If you're like any red-blooded American, then you probably do, which means you probably also have back problems. We can't help you with damage you've already inflicted, but Capsule will help you ditch that bulge with its cleverly designed Minimalist collection wallet.
SpaceX have published this neat interactive panorama of the inside of their Dragon capsule, America's first private spacecraft.
Space X and NASA are moments away from making history. The Dragon capsule is making its final approach toward docking with the International Space Station, marking a new chapter both for NASA and privatized space exploration. It's currently projected to dock at 10:02am EDT. You can watch it all right here:
Were the humble, boring old fire extinguisher to be reworked in the style of this concept design, dubbed Shooter, they'd be grabbed from the wall and used inappropriately in offices waaaay more frequently. Because, as its name suggests, the device is meant to behave like a friendly Nerf-style grenade launcher, aiming…
Here it is, fellow space-geeks, the first official image of the new joint Russian-European manned spacecraft, and we'll be damned if it doesn't look like something out of the Ikea Kitchen Collection. It's made to ferry up to four people (cosmonauts or astronauts?) to the moon and back, with a two-stage…
Well, that didn't take to long; aptly named Flickr user, nakedmac has taken the plastic white goodness from off of his Time Capsule, so we can all have a look under its panties. Things we have learnt; 1). There is a fan to get Time Capsule's cool on. 2). Nakedmac was one of those kids that destroyed his toys two…
This rugged fire-extinguisher concept contains both an oxygen supply to help you breathe and exploding powder pellets that you roll, grenade-like, into a fire to put it out at a distance. We're slightly worried at the idea of having an oxygen tank near lots of flames, but hey ho, it's great that designer Woo Seok Park…
Never before have we seen a hotel whose rooms let you pretend you're an officer embarking on the maiden voyage of a new starcruiser. If you're in London next month, try out the new Yotel, a Japanese capsule hotel in the Queen's backyard.
SUCK UK (yes, their actual company name) has designed this very unique capsule LED clock and message display. It has a whole slew of LEDs and can be programmed to stream messages along with the time and date. The capsule design makes it perfect for that contemporary or futuristic-designed home. I can imagine it now...…