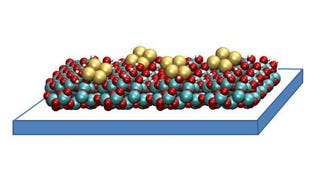 In the energy world, carbon capture technology is often seen as the Holy Grail: Imagine if we could just suck all pesky climate-changing CO2 out of the atmosphere. Scientists at the DOE are hot on the problem. They've just identified a new material that not only captures CO2, it helps convert the greenhouse gas into…
With millions of tons of carbon dioxide billowing into the atmosphere from our power plants, one possible solution to the pollution is carbon capture—sequestering the greenhouse gas before it ever leaves the plant. But then what do you do with all that carbon? Norway has a interesting new plan: farm salmon.
A team from the University of Newcastle is perfecting a method of capturing carbon emissions and transforming them into carbonate rock bricks. They're just part of a wave of efforts by scientists who hope to tame carbon in order to shape a greener future.
As the Arctic ice continues to fade away, some scientists have come up with radical solutions to the problem of greenhouse gases. One of these ideas is large-scale Carbon Capture and Storage (CSS), burying those troublesome gases underground — but now it looks like that notion could cause more trouble than it's worth.