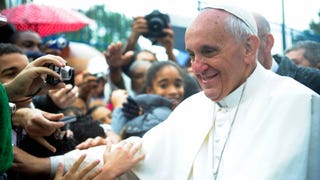 Recently, when consoling a boy whose dog had died, Pope Francis publicly stated that "paradise is open to all of God's creatures." Despite the ambiguousness of the statement, many animal lovers and rights groups have interpreted it as a repudiation of Catholic theology stating animals don't have souls.
Visiting the dripping sand castle basilica that is the Sagrada Familia in Barcelona could definitely be described as one of the most awe-inducing moments of my life. A spiritual experience? Perhaps. But is it a miracle? That's what a group of believers are trying to prove in their campaign to make its architect,…
If you're an 18-year-old adult woman on the fence about whether or not your parents "should" "let" you go to college, fret no more! The internet provides, as always, in the form of this staggeringly terrible listicle from FixTheFamily.com (which, as far as I can tell, is a machine where you put in Catholicism and the…
Catholic bishops have approved an iPhone app that walks the faithful through the confession process (though they must consult a priest for absolution). The app is called "Confession," an improvement on the original name, "A Priest in Your Pocket."
In case you thought V's storyline, in which the Catholic Church embraces the alien visitors as "God's creatures," was too far fetched, the Vatican held a conference on exo-biology this week. Which occasioned this awesome image from the Telegraph newspaper.