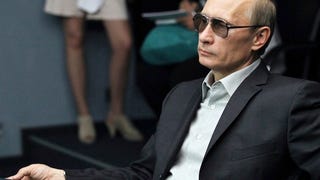 The same association that puts on the Consumer Electronics Show in Vegas each year has called for manufacturers to get their acts together and support a new standards process for 3D active shutter glasses. As you know, each manufacturers' glasses are compatible with only their 3DTVs (unless worn upside-down), a fact…
We know it's tough keeping up with all the CES craziness. To help you cope, we updated our recap of the coolest stuff we've seen at CES: [Gizmodo's Best of CES]
CEA, the organization that represents every gadget-maker (and throws CES every year) is involved in a squabble with the NYC Department of Sanitation over new, stricter laws governing proper disposal of electronics. Do they have a leg to stand on?
Apple announced this year that they would no longer attend the decade-old Macworld conference, leading some to speculate that the company would shift their focus to CES. Well, the CEA is now shifting their focus to Apple, but why?
The second real day of CES 2009 kicks off with Sony CEO Howard Stringer's keynote speech. Sony said yesterday they saved BIG product announcements for the gadget emperor himself. What are they? (Besides Tom Hanks.)
Before Sony CEO Sir Howard Stringer jumps onstage to deliver the second day keynote, CEA President Gary Shapiro is trying to rally the troops but drops this bomb: The industry's gonna shrink this year. The industry has only shrunk three other times in the last four years—it's grown every other year. 2008, even, saw…
As I mentioned perhaps all too subtly in my Ballmer keynote post, Windows 7 Beta is now available to MSDN and TechNet subscribers, with wide availability on Friday, January 9. [Microsoft]
No silly opening video, but Ballmer did kick off his CES 2009 keynote with a silly string of text messages from his surprisingly sweet WinMo phone. [Ballmer CES 2009 Keynote]
Here at CES 2009 in Las Vegas, Steve Ballmer has kicked off his speech wearing Bill Gates' old shoes. Was TechCrunch right about the speech's contents? Update: Here's video of the keynote:
A few days ago, we wrote about hardware that "demagnetizes vinyl and cds" to make them sound better. Utter bullshit, but the surprise was that CES had given it an award. What does a CES Award mean?
The Consumer Electronics Association (CEA) issued a press release saying they're forming an advisory committee to see if they're ready to explore gaming event options, a.k.a., make an E3 replacement. They're fairly experienced in tradeshows, seeing as they're responsible for the Consumer Electronics Show (CES), which…
The Consumer Electronics Association fired back at the content industry, publishing a print ad in a Washington newspaper that rips into the RIAA and MPAA for fear mongering and spreading disinformation. The CEA is trying to persuade congresspeople to oppose legislation that restricts satellite radio. The group…