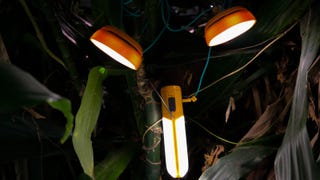 This new BioLite NanoGrid functions as a hanging work light or lantern, a multi-point area light, a powerful flashlight and a portable power source for your electronics, all in a single $100 product. The ultimate camping gadget? I got my hands on a unit to find out.
Fitbit is such a tease. In October, the company announced three new fitness trackers just in time for the holiday gift-giving season—but decided not to ship two of them till 2015. Well, having now spent time with the Charge, Charge HR, and Surge, we believe the Charge HR is the one you want.
The worst-kept gadget secret in recent history is no longer secret at all. The new Fitbit Charge, Charge HR, and Surge fitness trackers are official. Here's everything you need to know.
After earlier reports that Fitbit may be working on two new activity trackers, a tipster has sent us what appears to be official marketing materials that give us our first clear look at both the Fitbit Charge and Charge HD. Not only do we have a full feature rundown for each of these trackers, but the cleanest look…
Research funded by the US Air Force Research Laboratory has come up with a breakthrough battery: a betavoltaic power cell that lasts for 30 years without a recharge. Made from radioactive material (I am writing this from my underground bunker) the batteries end their life being completely inert and non-toxic, so…
How long is the PS3's charge cable compared to the Xbox 360's? Well, watch the video to find out. Ok, done?