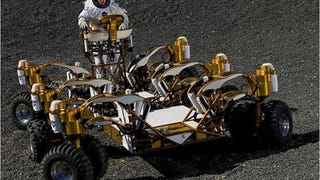 NASA's Lunar Chariot, which costs a reported $2 million to build, has just been tested by the NYT. The top speed of 15 mph may not set tarmac on fire, but it sure as hell can burn a truckload of astro stuff, all with it's six-wheeled wackiness trailing closely behind. The front driving "turret" houses the primary…
I can't say for certain how NASA comes up with its designs for lunar rovers, but my guess is that the LEGO Space system plays a big part in it. Today we're looking at Chariot, a 12-wheeled space SUV designed in 12 short months specifically for a proposed 2020 moon landing.
This is the Easy Glider, a mean (13mph, tops) machine that has just won this year's ispo BrandNew Awards. A 360-watt electric motor with a couple of wheels attached, the chariot can take you everywhere silently— that is, if you don't order the optional MP3 player—at a top speed of 13 mph.