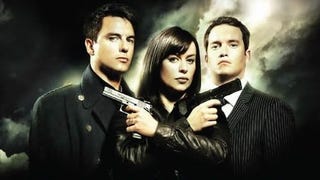 If anyone had any doubts that Torchwood could be a success on the more mainstream BBC One network, the audience turnout for the first episode of Children of Earth will have changed their minds, almost doubling previous viewing figures.
Torchwood: Children of Earth, premiering tonight in the UK, may be a new format for a darker Torchwood, but it's still the series we've come to love, according to one of the show's producers.
The BBC issued its press packet for Torchwood's third season, the five-part "Children of Earth," and the Doctor Who spin-off is bigger, crazier and more political than ever. It's easy to see why Russell T. Davies is sticking around. Spoilers!
Set your alarm clocks. Torchwood's return is only two months away. BBC America has confirmed that they'll be showing the five-part "Children of Earth" in July, thus also confirming the UK airdate.