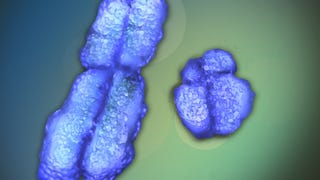 The ratio of newborn boys to girls slightly and consistently leans toward males: around 106 boys are born for every 100 girls. If that seems odd to you, it should: the way sperm form suggests that the ratio of X-sperm to Y-sperm should be exactly 50:50–and scientists are only now beginning to understand why the skew…
Science, man. An international team of scientists have made a major breakthrough in synthetic biology. For the first time ever, they were able to insert a man-made, custom-built chromosome into brewer's yeast to not only create a life form but one that also passes down its man-made genes to its offspring. We're closer…
Remember back in high school biology class when you had to sketch the structure of a cell? Chromosomes were always fun because you know they'd be these smooth X's stuffed with DNA. Well, I hate to break it to you, but science doesn't actually work like that.
Health kicks might help you feel better about yourself, but new research suggests that they could actually be reversing ageing at the cellular level, too.
Normally, an extra pair of chromosomes would be considered dangerous. But what if we could design our own? According to biologists, we could create custom-built chromosomes to fix a variety of health problems, and even give us new abilities. Here's how a 24th pair of chromosomes could change our biologies forever.