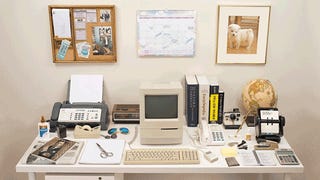 It's 2014, one year shy of the time of when Back to the Future II was set. And you know what? Our world is pretty fucking futuristic. You don't need to look further than your desk to realize how transformative technology can be.
When was the last time you looked at your Facebook feed and actually liked everything you saw? For all of Facebook's fancy algorithms, it can never create the perfect feed for you. Here's how to declutter that feed once and for all and only see the stuff you care about.
Arriving in Walnut, Wenge, Odom or Japanese oak, these Tumoni headphone cord organizers will be most appreciated by the import market lovers amongst us, but for me and the rest they're wonderfully elegant eye candy. [Book of Joe]
Cords! All gadgets have 'em. They're everywhere. And there are a million different ways to deal with them. But this cord tamer from Pinza is prettier than most, cast from solid stainless steel and hand-polished. $26. [Pinza]
Based on what I have seen in the past, there probably isn't much hope for the major slobs among you, but for the rest of us, the Space Bar might help free up some desktop space.
As a guy constantly fighting clutter in his garage, I can appreciate the brilliance of a towable trailer that doubles as a vertical storage unit.