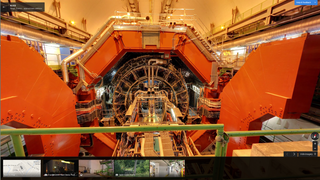 Google Street View is truly becoming our virtual tour guide to some of the coolest and most unusual places in the world, and now they are taking us inside the facilities of CERN.
Earlier today, scientists from the ATLAS and CMS experiments at CERN's Large Hadron Collider announced the discovery of a subatomic particle that's consistent with the Higgs Boson. So, have physicists finally found the elusive particle? Short answer? Yes. Longer answer? Well...
The internet is beside itself with rumors that the long-sought Higgs Boson has been found — but a representative from one of the teams searching for the so-called "God Particle" says to chill the frak out. So what's going on here? Are researchers waiting for an international physics conference in July to make their…
This morning, physicists representing the Large Hadron Collider's two largest experiments — ATLAS and CMS — announced that both teams have independently uncovered signals that point to the appearance of the Higgs boson. That's the long-sought sub-atomic particle thought to endow all other particles with mass.
We've covered the bounceback ABS backup drives before, but they've got a new version and a new spokesman. The ABS Plus drives range in size from 40GB to 160GB, and work on both PC and Mac. Whenever you plug in a BounceBack Professional-enabled drive, it automatically initiates an entire backup of your machine,…
If those thumbnail USB drives just can't hold enough for your voracious need of disk space, step up to a pocket-sized high-capacity USB 2.0 external hard disk drive. This CMS ABSmini Backup System will quench the thirst for space of even the hungriest diskmongers, and is available in 20GB, 40GB and 60GB capacities.…