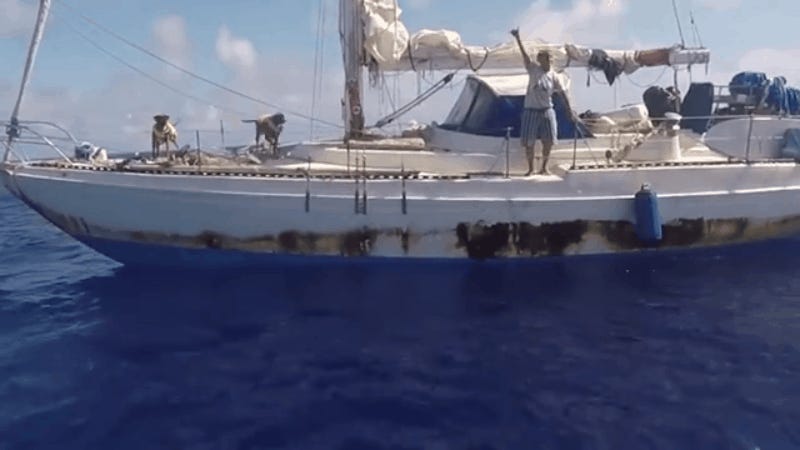 Two American women and their dogs have been rescued after spending nearly 5 months stranded on the Pacific Ocean surrounded by sharks. Jennifer Appel and Tasha Fuiava set off for Tahiti on May 3rd, but suffered engine failure and even a broken mast. To make matters worse, their phone fell overboard on the first day.
The U.S. agency in charge of monitoring icebergs has warned shipping companies that an unusual amount of icebergs for this time of year are drifting into North Atlantic shipping lanes, disrupting a complex international system that affects numerous facets of life. Experts aren't certain that climate change is to blame…
The vibrations and salt buildup inside of the evaporators led to a few broken pipes. The engines required constant fine-tuning. Leaks were a regular nuisance. A fuel or oil line would break or a gasket would give away. The piping of two of the fuel tanks cracked, which required engineers to weld them back together.…
10 years ago, the Coast Guard was guaranteed $17 billion dollars to purchase or re-outfit 250 ships over a period of 25 years. After spending $7 billion, there are two completed ships. There are supposed to be at least eight.
A scene from my neighborhood: The "wall" the Coast Guard is protecting with their tiny little machine gun is actually the LNG tanker Suez Matthew. LNG tankers are a hot button issue in Massachusetts due to terrorism concerns. [Universal Hub]
Apparently drug runners are relying on an amazing bit of DIY gadgetry to smuggle cocaine into the US in increasing numbers: home-built submarines. Knocked together in the Colombian jungle, and costing up to a million bucks, they are actually semi-submersibles, since full diving is just a bit too sophisticated.…