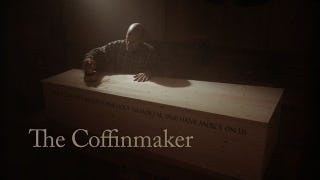 Marcus Daly is a Washington-based carpenter on a mission: to produce the most environmentally friendly handcrafted wooden caskets he can. This short film, by Dan McComb, reveals the beauty of his work.
Abraham Lincoln was one of the most celebrated and mysterious presidents in the in U.S. (maybe this is why he made such an excellent vampire hunter.) His assassination sent a nation into mourning, and was followed by a two week funeral tour by train car. But Lincoln's body did not find rest at the end of this…
These are the most tasteful eco-friendly coffins I've ever seen, and as they're made from recycled paper the earth will be nourished within days. I guess the antithesis of these DanCofs would be wrapping a body in numerous Happy Meals?
Designed to make "stronger emotional relationships with our belongings," Shelves for Life is a bookcase-slash-coffin that holds your personal possessions in life and your person—corpse—in death.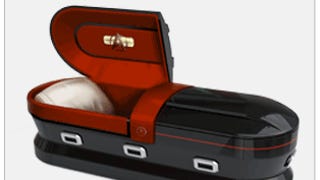 Eternal Image, makers of afterlife geek vessels, released a near final design of their Star Trek casket based on the "Photon Torpedo" design from STII: Wrath of Khan. The piano black coffin is complete with Federation insignia on the inside, and handles for when the ensigns load your geek corpse into the airlock. […
Instead of stuffing your lifeless body in a boring old box, why not get buried in a giant guitar? 160-year-old Vic Fearn and Company, based in the United Kingdom, has created an art gallery dubbed Crazy Coffins. The caskets are for people from all walks of life, including skateboarders and skiers, a building…
Ever since we saw The Serpent and the Rainbow as a little kid, we've had this unnatural fear of being buried alive. Well, a Russian inventor by the name of Vitaly Malyukov must have watched the same movie cause he's designed a casket with a built-in panic button that lets you contact the living in case your quack…
If the Uono Cocoon Coffin we wrote about earlier today is too fancy for your tastes, or spending thousand of dollars on something you'll only use once seems rather extravagant, we've found a company that understands: