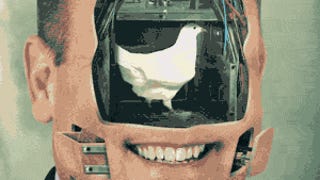 Milos "Sholim" Rajkovic's animated collages are unnerving to look at, but also strangely mesmerizing. He creates surreal portraits that transform mundane photographs into bizarre mechanisms from a Terry Gilliam-esque nightmare.
At first glance, Yao Lu's digital collages look like watercolor paintings of misty Chinese mountains. But upon closer inspection, it becomes clear that the real subjects of these photographs aren't plant-covered hills but landfills, and the initial beauty of the images takes on an entirely different meaning.
As Flickr says: "Flickr members upload more than 3,000 images every minute, and yesterday yeoaaron uploaded the five billionth photo." As yeoaaron says: "I am Mr. 5 Billion, and there ain't nothing you can do to stop me."
Josh Poehlein's Modern History works takes individual frame grabs from YouTube videos and assembles them into scenic collages. And if you ask nicely, he'll share the love with a high-res file.