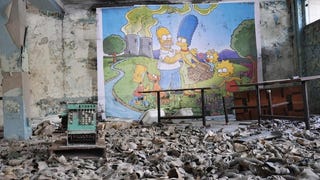 The Simpsons are everywhere these days — including Chernobyl, the site of one of history's worst nuclear disasters and an upcoming horror film. Homer and the gang actually don't look too unhappy to be surrounded by rubble and gas masks, in this new mural painted by French street artist Combo.
Funai, whose subsidiaries are more familiar to us as Sylvania, Symphonic and Emerson, is planning on selling LCD HDTVs with Blu-rays on-board starting summer 2009. The company's previous successes in recent years with combo units (TVs with VCRs and TVs with DVDs) totaled up 40% and 20% of their sales in the US…
We haven't heard much of the UK-based Passive Technologies, but if they keep rolling out with stuff like this lifeStation HD media player, they may yet become a common name—at least in the UK. The player features a HD DVD/Blu-ray combo player, Windows Vista, up to 1.5TB on-board storage, multi-room Crestron support,…
The concept behind VinylDisc is valid, that there are people out there who want to hear their music in pristine digital sound, yet are still drawn to the eclectic analog nature of vinyl, yet want it all on one disc. And they've even found a band who wants to try it out. British rockers Fightstar will be the first band…
Seagate's latest Momentus notebook hard drives feature 256MB of flash memory and come in sizes of 80, 120 and 160GB. The point of the on-board NAND flash? To speed up performance by caching frequently used data in the NAND instead of reaching onto the hard drive every time. By storing boot information in there, it…
If you are still confused about the LG HD/BD Dual Disc Player getting canned due to HD DVD compatibility issues, here's the final word on the release. It's coming. Early February. F' Shizzle.