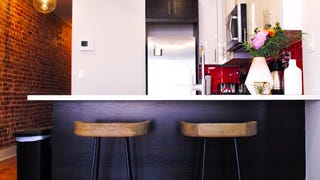 What can you get for $1800 in rent? In Brooklyn, you can get a fully furnished apartment, a bedroom that's all yours, plus access to two bathrooms, a living room, and a well-appointed, brand-new kitchen. Oh yeah, and here's the twist: You'll share it with four other people—who you don't get to choose.
In space, nobody can hear you freestyle. But that hasn't stopped some of hip-hop's greatest legends from appearing in some classic science fiction and fantasy movies. From battling killer sharks to fighting off ghosts on Mars, some of our favorite rappers have also become some of our favorite SF heroes.
Click to viewNo wonder John Connor is always so pissed: his calendar is full of Terminator slaying, leading a rebellion, running from giant harvester bots, and a whole lot more.
Microsoft has, against all odds and probably their own better judgment, decided to create a branded clothing line as part of their new ad campaign. The t-shirts have sort of an Urban Outfitters feel, only without the requisite irritating irony, and feature a few designs contributed by dapper rapper Common.
As the Gunsmith in Wanted, rapper Common may have looked more wooden than co-star Morgan Freeman, but with a role in Terminator Salvation, a new scifi-inspired album and a fledging relationship with Serena Williams, we're convinced that his star is on the rise. We're so convinced, in fact, that no longer can we even…
A heap of new music videos represent for science fiction. But the stand-out video this time around is Common's "Universal Mind Control" video, featuring Pharrell as a robot. Not only is the track a hit, but the dancing robot's moves are far and away some of the best robot strides I've ever seen. I dare you not to…
New production photos of Reposession Mambo tell us absolutely nothing about the more serious of the two organ-repo movies coming next year. You can see allegedly "futuristic" cars and some buildings. Yawn. [ShockTillYouDrop.com]