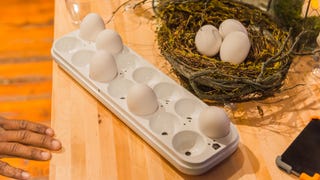 What happens when a Fortune 500-ranked, 120-year-old company like GE partners with a four-year-old startup like Quirky? Today, six months after announcing a partnership, the companies launched their first co-branded products.
There's nothing new about cameraphones at concerts or even filter apps like Hipstamatic (it went to war and came back with an award!), but something about this picture got me thinking today about concert culture in a hyper-connected age.
ABC's My Generation was a turd. Mercifully, the network canceled it after just two episodes. The My Generation Sync iPad app that accompanied the show, however, was actually very clever! Sadly, it died with that awful show. Or did it?
Best Buy and Tivo have finally consummated the union they first announced last year. The result: an Insignia TV pre-loaded with TiVo software. Just not of the DVR variety.
You must check out the insane trailer for Wong Jing's Future X-Cops, where every character has some sort of gun arm, mechanical wing or robot dragon appendage. Plus watch the new trailer for Drones, which is The Office meets V.
I got to play with DivX's Connected set top box that we showed you last night, and found a few more things out about the prototype. (Much of this could change by launch.)
•DivX Connected Server runs on PC, and does the file serving as well as the decompression of most video content.
•Only supports DivX video. No WMV…
DivX is launching a hardware platform for a media streaming box with openness in mind. The set top box I was shown (a plain looking reference design) had HDMI, component, composite outputs and a b/g WiFi and Ethernet connections for connecting to your PC. The gorgeous UI I saw had PS3-like 3d thumbnails of videos and…