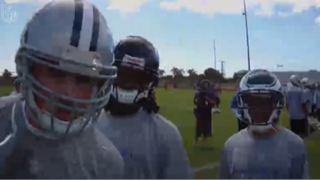 Ever wonder what a quarterback really sees on a football field. Well the NFL offers up a taste of that, strapping a VHoldr ContourHD 1080p camera to Eagles quarterback Mike Vick's helmet during Pro Bowl practice in Hawaii.
ContourHD, one of the better HD sports cams, just got a surfboard mount.
VholdR missed being FIRST! with a mainstream 1080p helmet cam by a few months, but they've got a different take on the concept anyway. For example, does your GoPro have dual sighting lasers? Hmm?