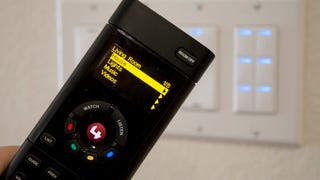 Control4 is a suite of home automation devices that can tap into your security system, lights, home entertainment, thermostat and various other electronics. Now they have an iPad app. And soon you will be fat.
There are already a few home automation iPhone apps in the store, but here at CEDIA it's clear that all of the home automation heavies have definitely discovered the obvious: the iPhone makes for a great universal touchscreen remote for everything from your AC to your living room blinds to your music collection. And…
Video-philes with a control streak can invest in this HC-300 Home Controller to do all their turnings on and off in glorious high definition. Not only does the $699 HC-300 support 720p, there's a brushed aluminum chassis, Zigbee wireless technology, IR ports, Relays and tons of outputs in the back as well.